Another Cool Sorting Tool
I spent a lot of time this summer organizing (or trying to anyway) different areas of my house in an attempt to clean and minimize the accumulations that have built up over the past 20 years.  In some ways, I was successful.  I finally got rid of clothes from the 80's (even if they do come back in style, I am not wearing them again) and rearranged our poorly designed kitchen.  I spent a lot of time at the container store, staring at organizing systems trying to imagine how they might work in our teeny tiny house.  I never ended up purchasing any of them mainly because I thought buying more unnecessary plastic objects to organize the piles of unnecessary plastic objects that were already in the house, didn't really make sense.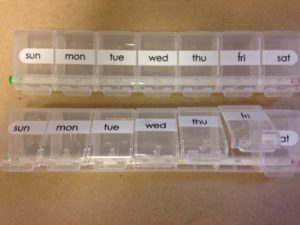 One day, while still looking for organizing tools, I was browsing in our local Walgreens, I came upon these large pill organizers.  They make them really big now, so that they can be easily opened, labeled, and filled with many pills.  I got to thinking about how these would be interesting as a sorting tool for children.
1.  They are labeled with the days of the week and when put side by side, they create a pattern.
2.  They are large enough that items can be put inside and then closed up. (Beware of small items that may be a choking hazard.)
3.  There are buttons on the side that lock to close, and then release them to open.
What do you think?  Could these pill boxes be used in your classrooms?  How?