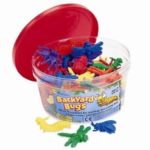 Sometimes just having the right manipulatives at the right time can make all of the difference when planning your curriculum.  This container of plastic bugs will not only delight your kids, but can be used for all sorts of fun and engaging math activities while you study bugs this month.
As always, introduce the new materials in large group and then allow the children to play with these before you ask them to do anything specific with them.  Let them discover for themselves ways to use the bugs the way they want to, and give them plenty of time to do so.
After a couple of days, you can introduce one other tool that children can explore with the bugs.  Perhaps an egg carton with a pair of large tweezers so the children can pick up the bugs as scientists do, and then place one bug in one egg space.  The next day, introduce a magnifying glass for closer examination of the bugs.
If you find that your children are enjoying these manipulatives sit with them and turn it into a game.  Take the egg carton and place bugs randomly on one side.  Ask the children if they can find the matching bugs and have them put them on the other side.  Then switch it up. Have the children put the bugs in first and you can do the matching part. Even very young children can try this and find success.
There are other collections of really beautiful, more realistic bugs that are made for classrooms.  These can get very expensive.  I saw some many years ago at the Chicago Botanic Gardens that were magnificent but cost about $100 for a set of 10-15.  For our purposes, these will do just fine.