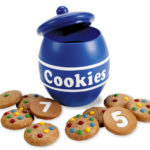 We recently received a huge order of materials for our Child Development lab at the college and this little item was in amongst the boxes.  When I saw it in real life, I was so excited that it was as cool as I thought it would be.  My kids, especially my younger son Louie, would have LOVED this when he was little.  He was obsessed with miniature foods and we had the complete miniature kitchen in the basement, where he played for hours and hours and hours.
Many of the uses for this manipulative are immediately obvious (counting, sorting, matching) but I wonder about some "not-so-obvious" ways they could be used in a home or center.  If you have 10 children or less, you could use them as a way help make decisions about turn-taking.  The teacher can put in the number of cookies that correspond to the number of children and then each child can pull out a cookie, one-by-one to decide who goes first, etc.  This could be used for hand washing, getting in line, or show-and share.
Any other great ideas for the Cookie Counters?