This past weekend I stopped by a two-year old's birthday party.  The weather was holding out even though storms were predicted for the entire day.  My friend Jessie built this Cookie Monster Corn Hole Game that was the hit of the party.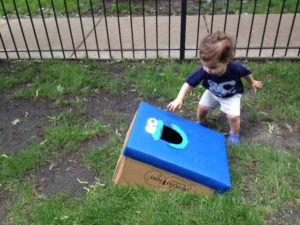 She admitted to stealing the idea off of Pinterest, but who cares where it came from- it was great.
You can see from the picture that all you need it a large box with the lid still intact.  Cut the sides on a slant and cut a hole in the top for the mouth and then decorate the mouth so it looks like Cookie Monster (or another character your children enjoy).
For me, the best part of this game was that Jessie created small felt cookie bean bags that the children could throw or drop into Cookie Monster's mouth.  She was very wise when she created the cookies because she made a LOT of them.  A traditional corn hole game comes with 10 bean bags (5 per team) but for this, Jessie made about 30 cookies.  That way there were plenty of cookies to go around, the children could pick up a bunch of them at a time, they didn't run out and nobody was worried that they wouldn't get any.  Perfect.