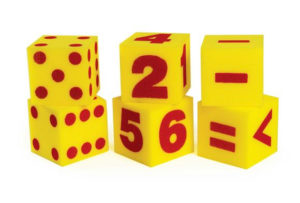 I've written about dice in the past on a couple of occasions but this set has not only pips, but cardinal numbers and signs as well.
6 and the ways those numbers are represented by pips on a die, you can add the dice with signs, just to liven things up.  These are large enough that they can be rolled at group time in the center of the rug.
Roll one of the dice with numerals on the side and let the children figure out what number comes up.  Then roll one of the dice with signs.  Use this as an opportunity to "teach" what each of the signs mean.  Next roll one of the dice with pips.  Let the children figure out "how many" pips are shown.  Now, have them compute the number sentence.  This is going to be very difficult for most children, but if you make it fun, and game-like, they will enjoy getting involved.  Be sure to let the children choose which dice to use and let them have turns rolling them.  For some, this will be the focus of the activity rather than the math.  That doesn't matter.  These dice will provide additional exposure to signs and numbers in a fun and engaging way.