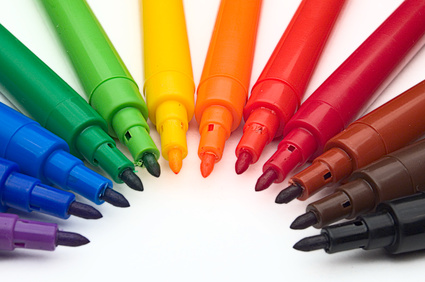 I don't normally think of pens, paper, or tape as "manipulatives" but since we are looking at bookmaking as a theme this month, I think they are worth exploring.
And so I ask the question, "Do materials matter?"  I used to think they didn't.  Newsprint sufficed as a canvas for painting and recycled office letterhead paper was fine for all other art projects.  That is until I saw the difference with my own eyes.
As a director, I watched my bottom line.  We had a budget for "consumables" (materials that we went through on a regular basis and needed replenishing) and I worked very hard to stay within it.  Often the teachers would come to me with requests for new and better materials and if the budget permitted, we would indulge.
Have you seen what children can do with beautiful felt tip pens, white graphite paper, colorful tape or scallop-edged scissors?  The difference in what children create when the materials they have work well, are organized in a meaningful away, and are taken care of is remarkable.  I frequently see children trying to draw with markers that are dried out on paper that rips.  I don't think I would do my best work either.
I know that these materials are often much more expensive but periodically providing a better canvas for children's paintings may bring out the Picasso in them.  Look for sales, coupons, and Dollar-Store deals.  Save up and indulge on the children's behalf.
For bookmaking, good paper and easy-to-use pens are important.  Children can't "write" with chubby crayons or dry markers.  They need materials that are sturdy and can stand up to artistic endeavors of little hands.