Today we are going "old school" to talk about dominoes.  Dominoes have been around for centuries and have been used for all sorts of gaming in countries around the world.  Traditional dominoes were made of ivory with black dots, called "pips".  A traditional complete set of dominoes has one unique piece for each possible combination for each end from 0 – 6.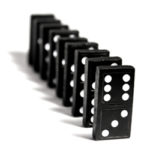 When my kids were little one of our favorite things to do was to set the dominoes up like they are in the picture above and then knock them over.  If you lightly push the first domino in the row it will knock into the next one to create a "chain-reaction".  This activity takes a lot of patience and perseverance and is probably more appropriate for older children or one-on-one interactions with a younger child.
There are literally hundreds of games that can be played with dominoes.  Here is a website that describes many of them.  For our purposes, a simple game of matching like ends to like ends can keep kids busy counting pips for days.