This next game is not only a great way to build your child's spatial reasoning skills, but also helps them with the important life skill of reading maps. Mapping can help your children understand the world around them while strengthening their spatial thinking.
Materials:
Construction paper in four different primary colors
Index cards or small sheet of paper
Small ziploc bag
Dot stickers
Dry erase marker
Directions:
Take the construction paper and cut out four large circles from four different colors of paper that are large enough that your child can easily stand on the circle. I recommend using one sheet of paper for each circle you create.
After you have your circles, take an index card or sheet of paper, and use the dot stickers to create your map.
Your map will be a in a 4×4 pattern, keep in mind that every row needs to have the same color dot stickers.
Make sure your dot stickers are the same color as the construction paper you are using.
After you have made your map, lay your paper circles out on the floor in the same pattern as your map.
It's best to secure the circles on the floor with tape so they don't move around too much while you are playing the game.
Now take your map and put it into a ziploc bag.
Take your dry erase marker and draw a path on the ziplock bag so it shows up on the map.
When first playing this game, keep it simple and draw an easy path with two different turns of direction in it, and then get more complicated as your child becomes more confident. You can draw arrows marking the start and end of the path to make it easier for your child to follow along.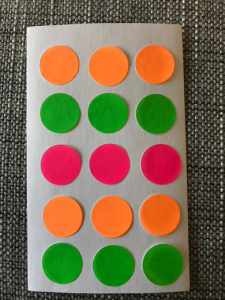 As you encourage your child to follow the directions on the card and stand on the matching dots, ask them to anticipate where they need to go next. "Which way do we turn here? Right or left?" or "Are you going to take a step forward or back? How many steps are left before we get to the end? Let's look at our card for directions!"