There are probably hidden gems all over the country that I know nothing about, but I do know about an absolute prize just north of Chicago, in Skokie, called the Emily Oaks Nature Center. 
The reason I love this place is that it PERFECT for very young children.  It is small and compact.  There is a hiking loop around a smallish pond that even toddlers can manage. They have outdoor picnic tables for snacks and an indoor interactive nature exhibit.  On top of all that, there is a perfect little playground on the property.  I have never been there when it was crowded or even really busy.  Unless you plan on renting a room in the building, it is also free.  It is a virtually ideal place to take a group of preschoolers.  Here is a list of all available educational programs.
When my boys turned 3 and 1, we hosted a joint birthday party at Emily Oaks Nature Center.  I found these bug collection boxes at the Dollar Store ( I think they were 2 for a dollar in those days).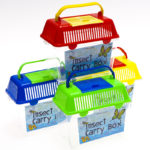 I took the tags off and painted the children's names on the front.  I then found a bag of cool bugs (used some old Halloween spiders) and each child received a bug box as their goody-bag.  Total cost=just under $1.00 a piece.  I'm nothing if not frugal.