Garfield Park Observatory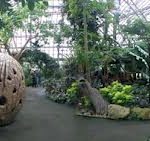 Have you ever been to the Garfield Park Observatory?  You can access the conservatory from public transportation as the Green Line has a station that is steps from the front door. It is a gem right in the middle of the city.
For young children, there is the Elizabeth Morse Genius Children's Garden where children can roam freely through the exhibit.  There is a huge seed for climbing and a slide for coming back down.  While climbing about, there are larger-than-life insects for children to explore, plants with unusual characteristics, and a variety of beautiful flowers all around.
In addition to all of this wonderfulness, there is a permanent area for crawlers so you can bring your mixed-ages without a worry.
But….my absolute favorite thing about the Garfield Park Observatory is that is a really warm and inviting place all year long.  It is the perfect place to take your children in the middle of the winter when it feels like the cold will never leave your bones.  You enter this wonderland and are warmed from the inside out.