Since I had my babies long ago, people have developed really interesting things to hang on strollers. We were lucky to have working harnesses so our babies didn't fall out onto the street.  Nowadays, folks hang all sorts of stimulating and educational things from the tops of their strollers to keep their children's attention and to keep them entertained.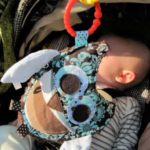 Links are one of those really versatile manipulatives that children will play with throughout their young lives.  As infants, they will use them as chew toys as well as to connect their other toys to something.  Later, children will connect them to make chains that are "long" or "longest" or to go across the room.
They can also be used to show numerical differences over distance. For example, stretching a 10-link chain next to a 5-link chain shows that it is twice as long.  You can also explain that the 5 link chain is half as short.
Links provide children with a nonstandard unit of measure. Here is a great lesson plan that uses links as way to measure common household areas.
Click here to see a video of a child using large connecting links in a whole other way.