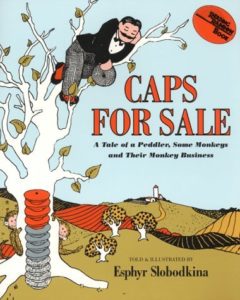 I had an opportunity to observe a wonderful teacher use the children's classic Caps For Sale as the foundation for a graphing activity.
She first read the story with the large group.  The children knew the book well and read along with her.  They acted out the monkey parts and tried on all sorts of different caps.  They had a blast.
She then told them that during free choice they could come over to the table and vote for their favorite colored cap. She created this wonderful board so they could vote.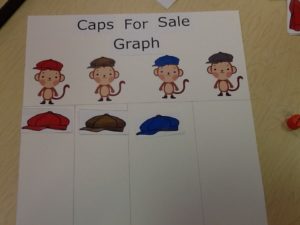 Once the votes started rolling in, some of the children stayed at the table so they could watch the results.  There were a couple of children who wanted "blue" to get the most votes, and a couple of children who wanted "red" to win. This became very exciting as the votes for blue and red were neck and neck for a time.  The children had loads of opportunities to talk about which color had more and which had less.  The graphing exercise itself became a vehicle for a lot of conversation about more and less, favorites, counting, counting on, and one-to-one correspondence.
Later, once all of the votes were in, the teacher brought the graph to the rug so the group could revisit their data.  You can see how this all played out in the video below.
After watching the video, do you have any suggestions for improving the activity?  Tell us what you think.