Who says food experiences have to be about sugary, salty, dessert-type foods?  I love to make healthy, interesting, and creative foods with children that may also introduce them to new and tasty ingredients.  Try and find recipes that most children (even very young children) can manage almost exclusively on their own.
Here's one that is virtually fool-proof.  Perfect for an afternoon snack- make them in the morning, refrigerate, and then toast in the afternoon for a healthy, home-made treat that the children make themselves.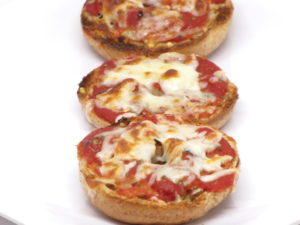 Pizza Bagels
Ingredients
Frozen whole grain bagels (mini-bagels are great too)
Low-fat shredded mozzarella cheese
Pizza sauce (be sure to look at the labels as many pizza sauces are filled with sugar)
Instructions
Separate the bagels into halves
Have each child take a half of a bagel (or 2 halves if you are using mini-bagels)
Place small bowls of pizza sauce and shredded mozzarella cheese around the table and give each child a spoon
Have the children spread their pizza sauce on their bagel and then decorate with the cheese
Place them on a cookie sheet or the toaster oven tray and make a map of where to find each child's creations
Toast until cooked.
Serve the children their very own Pizza Bagel!
There are lots of opportunities to use math vocabulary during this food experience.  The most obvious is that bagels are nearly always cut in half.  Make sure to ask the children if they want "a half of a bagel," or "two-halves or a whole bagel."  Words like "some" cheese, or "a lot" of sauce should be used and then reinforced with relative comparisons, such as, "You used a lot of cheese, but only a little sauce, while Maria used only a little bit of cheese and a lot of sauce."