Magnetic Numbers Plus (+) Symbols
A few months ago I wrote about magnetic numbers as a versatile math manipulative that preschool-aged children can play with and toddlers can explore.  As we look at Signs and Symbols as January's theme, I thought it would be a good idea to introduce magnetic symbols into the mix, so  children can build familiarity around some simple and common symbols that they will soon encounter in their everyday lives.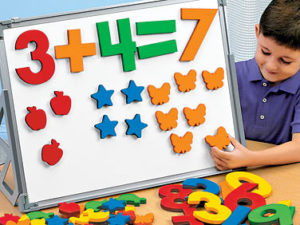 This set has plus signs, minus signs, and equal signs.  Assembling these into coherent math sentences is not the goal for young children.  Playing with the numbers and symbols simultaneously will reinforce the concepts that these symbols are mathematical and go with numbers.  They have names, which can be learned, and meanings, which can be introduced.  These explorations will eventually lead to correct use and readings of these symbols.