The first set of refrigerator magnets we bought had 3 sets of the alphabet's 26 upper case letters with several duplicates of commonly used letters (E, N, S, A, etc.).  We kept these in a large bucket in the kitchen so the kids could play with them on the bottom half of the fridge.  For the most part, they ended up getting thrown around the kitchen eventually gathering dust under the appliances.
If I were to do it all over again, I would purchase these number magnets.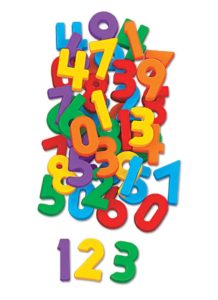 My kids had language all around them, while exposure to numerals was less apparent.  I also now know that Noah preferred manipulating numbers and these would have provided a more relevant experience for him.
Often, centers and classrooms have a magnetic surfaces somewhere in their spaces.  I have seen wall mirrors attached to the lower half of the wall so that crawling babies, toddlers, and preschoolers can see themselves.  Usually, these mirrors are magnetic, so mirrors provide not only a wonderful reflection of self, but create another area where children can explore magnets in a meaningful and consistent way.