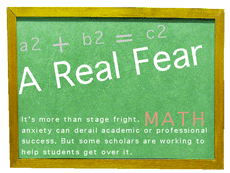 How many of you suffer from "math anxiety" or "math fear"? In my experience, people who do suffer from it may let it really get in the way of their success.  I work in a community college that requires students to complete a series of math courses in order to receive their degree.  I can't even begin to count the number of students who are completing their final Child Development courses but have not started to take the math. That means they may have 4 semesters of math until they complete the level that counts toward graduation.  Yikes! For many of them that means they will never receive their Associate's Degree.
I had a friend whose partner was a taxi driver in San Francisco.  Her life's dream was to become a chef.  At the age of 30 she signed up for culinary school, went to her first day of orientation, and was told that the courses required math skills.  She dropped out that day.
When I asked her why, she said that in 5th grade, a teacher told her that she would never be any good at math.  That stuck so hard in her mind that she nearly failed out of high school and never completed any higher education.  One sentence on one day destroyed her self-confidence and gave her a debilitating case of "Math Fear" that she has never been able to shake.
What are some of your stories of "Math Anxiety"?