Mittens, Hats, and Scarves – Oh My!
The multicolored layers of puffy winter wear that are required to keep a small child warm during February in Illinois provide endless opportunities for exhausting trips outdoors.  It often takes an equal amount of time to get everyone dressed as  it does to actually be outside.  Snow pants, zippers, scarves, gloves, hats, and coats require dexterity and patience to get assembled and on, two qualities that are only beginning to emerge in the preschool child.
That said, all of these fun winter clothes are a great resource for sorting and graphing as a large group.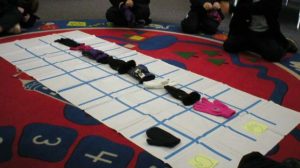 This picture shows a large graphing floor mat that is so perfect for preschool children.  They can put their own hats or mittens in the squares (rather than having a teacher do so on a piece of tag board).  This simple physical involvement will make the activity so much more interesting for the children.  Once they have put their items in the separate squares, they are easy to count and provide appropriate visual cues so the children can "see" which has "more" and which has "less".
I would start with Mittens vs. Gloves and see where it goes!