This month I am going to explore Money as a theme on Thursdays, so I also thought it would be a good idea to introduce money manipulatives on Mondays (that is a mouthful!)
There are all sorts of sets of money out there- but the small coins present a problems for programs with children under 3 years of age.  They are a choking hazard, so they cannot be available when toddlers are present.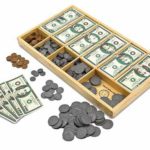 Melissa and Doug make a nice set that includes paper money in denominations from $1.00 to $100.  It comes in a nice wooden box with dividers that looks like a cash register drawer.  Children can sort them money into their correct spot, count how many bills they have and use the money to pretend spend in the classroom.
Put the coins away and only take them out when you have your older children around.  For the younger ones, you could make laminated paper coins (by enlarging these on a color copy machine and then cutting them out).  They will be safe to use and will look like the real things except bigger.