On Saturday, I was walking my pugs when  I came across this fabulous chalk drawing on the next block over.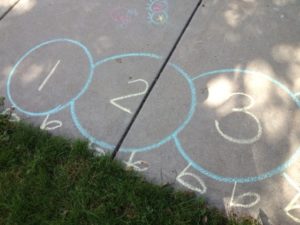 I wish you could see it.  The circles got larger and it wrapped around a corner with numbers going up to 15.
What do you think the children thought of this?  What did they use it for?  Clearly, a grown-up drew it – but why?  What was she thinking?
I waited outside the house for about half an hour, hoping someone would come out and tell me about it, but alas, no one came.  So I was hoping that you could tell me what you think it was for.
Ideas?? Ideas???