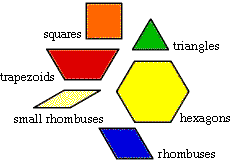 Pattern blocks come in all sorts of sets.  There are beginner sets for younger children (I really like these), and there are larger sets for older children. They usually have small and large triangles, small and large squares, a rhombus or two, a few trapezoids, and some hexagons.  They most often come in a variety of colors.
Pattern blocks help children see shapes, manipulate shapes, create patterns, and explore geometry.
You can make your own pattern block cards so that children can match the shapes to the shape on the card.  There are also books of pattern block patterns that you can buy.  Some sets include them….Check out the one below.