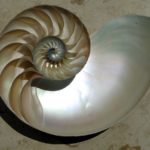 Patterns emerge everywhere in nature.   Leonardo of Pisa, also known as Fibonacci, discovered (or rediscovered depending on whose history you are studying) that there is a natural sequence that occurs in the organic world: we just have to look for it.  This sequence is made up of the series:
0, 1, 1, 2, 3, 5, 8, 13, 21,36, 57, 90, etc.  Can you see the pattern?
The Fibonacci sequence is formulated by adding the first two numbers and then each subsequent number to the preceding number (0+1=1, 1+1=2, 2+1=3, and so on).
Take a look at these patterns from the natural world and you can see that they form the Fibonacci sequence.