Peg boards are cool.  There are all sorts, but I really like the open-ended variety shown below. They usually come with an assortment of colors and each peg is designed to fit into the holes on the boards as well as into each other.  That way children can fill the holes or stack the pegs as high as they'd like.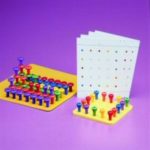 If you simply place the peg boards on the table with a basket of pegs, children will explore this manipulative in unique and exciting ways. Be sure that there are plenty of pegs, so children do not get frustrated and so they can complete the task in the way they choose. They may make rows of colors, or repeated patterns.  They may simply try to cover the whole board by putting one peg in each hole until it the board is filled with pegs.
This video called "Peg Board "(when asked for a password type in "cdhwc") shows a three-year-old using the peg board.  You can see how focused he is on putting one peg in one hole (one-to-one correspondence) and covering the board.  What other math concepts do you think he is getting out of this activity?