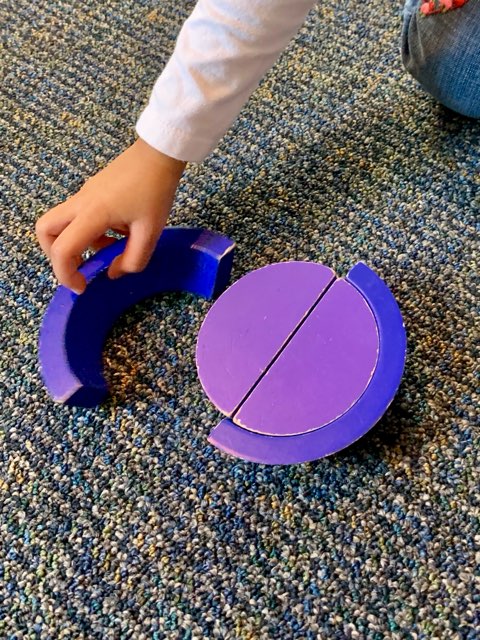 Out of the corner of my eye, I am drawn to the persistence of three-year-old Saaliha. She is calmly and patiently working her way through a rainbow puzzle.  Her friends are busy in other parts of the classroom, but Saaliha is problem-solving her way to mastery. I sit down next to her to observe her skills. She is so deep in her learning that she doesn't notice.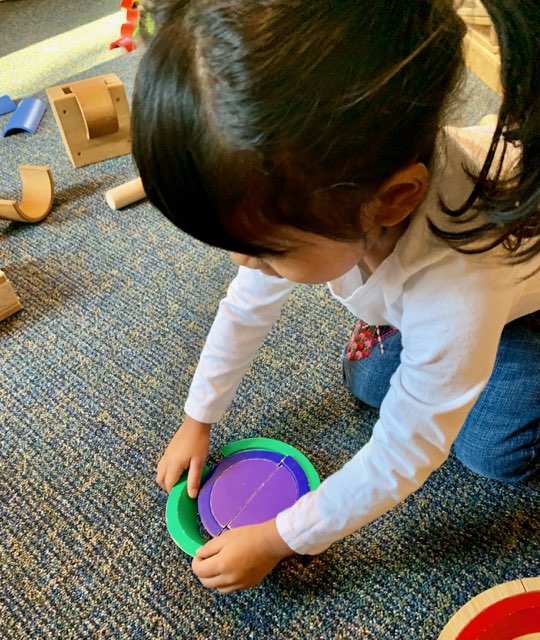 Open-ended materials such as these often create learning scenarios that allow long periods of deep concentration, and today is no different. Although this puzzle often lands in the block area as a snake, a tunnel or a flowing river, today Saaliha is trying to fit it back together the way it is stored in the tray.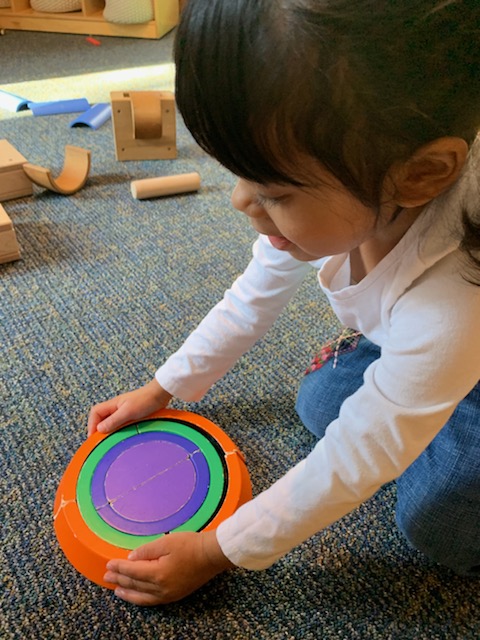 Puzzle play is a great time to build cognitive and fine-motor skills. Besides finding the correct sequence of sizes, Saaliha needs to evaluate which directions the blocks sit so that she can complete the puzzle. I watch as Saaliha flips, turns and rotates the pieces to figure out where they go and in what order. This is spatial transformation. I love watching her learning style and seeing how it corresponds to her developmental level. I see her set aside pieces that are not needed at the moment. Saaliha's spatial awareness is growing with each try.  
Watching Saaliha play with the puzzle, I can see her choices and strategy change. She begins to recognize and understand how the pieces fit together to complete the puzzle. I watch her sorting and testing pieces of different sizes and moving them in different directions until one piece fits properly. Through this task, Saaliha is developing small-muscle movements and dexterity in her hands and fingers, along with critical-thinking and problem-solving skills. This creates a learning adventure in which the eyes, hands and brain are working together to make the puzzle pieces fit.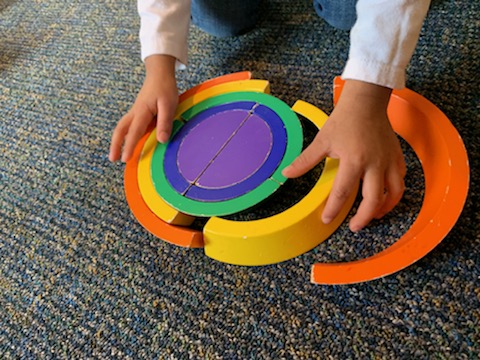 Saaliha is soon joined by her two-year-old buddy, Eleanor. These two best friends are 11 months apart in age—with different learning styles and levels of brain development. They work together to fit the yellow arch into the puzzle. There is discussion as they describe their strategies to one another. The collaboration is delightful as Saaliha patiently watches her younger friend try to master the same issue that she is having. Saaliha never reaches over to remove the piece from Eleanor's hand. She is observing and reasoning as deeply as she had been moments earlier when the puzzle piece was in her own hand. Eleanor quickly loses interest, but Saaliha perseveres!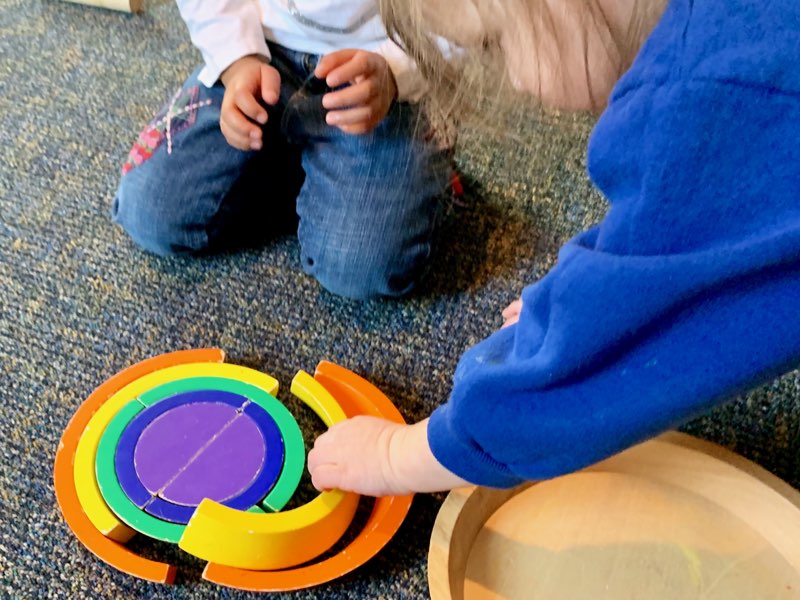 Saaliha tries new pieces and new directions. I can see the wheels turning in her head. She is collecting ideas and working out theories. She is not rushed or agitated.  She is riveted to this learning opportunity. She doesn't ask for assistance. She just keeps trying new patterns and new pieces.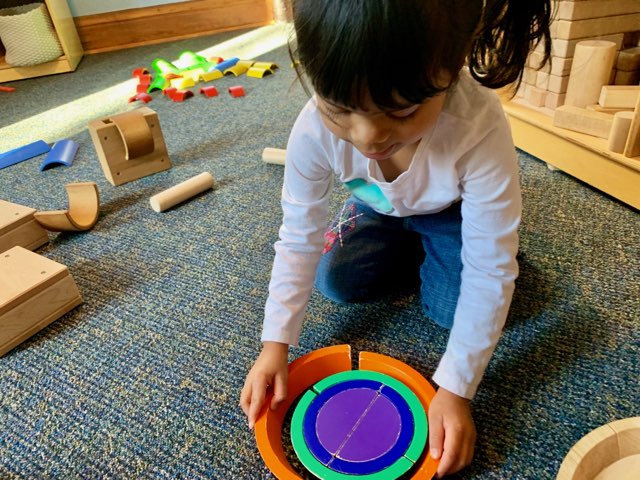 Suddenly it all clicks into place. The lightbulb of understanding goes on in Saaliha's mind and I can see her confidence surge as she fits the pieces together more quickly. She's got it! She's figured it out! There is no celebration, just a smile of satisfaction. She studies the finished project. Before I can capture her expression of satisfaction, she disassembles the puzzle to do it over again.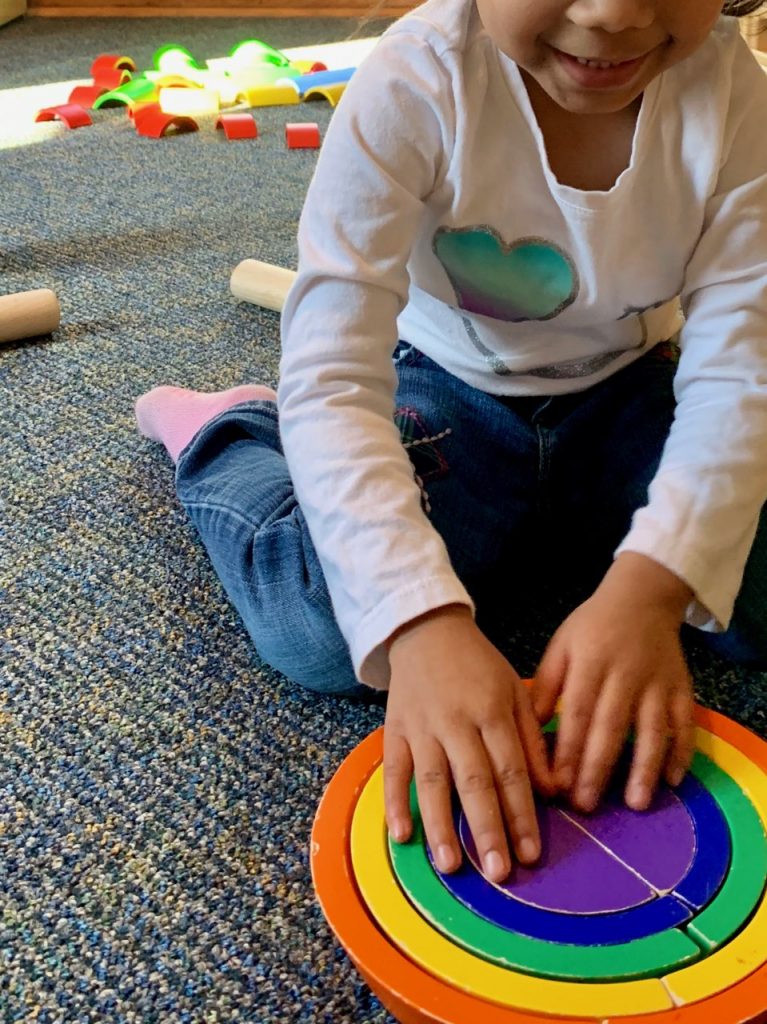 Saaliha continues to struggle and I continue to observe her strategies and methods of choice. Her perseverance continues to reward her with success and a better understanding of the puzzle in front of her. She is a finely tuned machine, working on all cylinders as she masters the task at hand with patience and confidence. 
Puzzles offer a wide variety of developmental benefits and enable children to learn important skills as they play. From critical thinking and problem solving to concentration and attention span to spatial awareness, playing with puzzles adds layer upon layer to our strong math foundation!