Puzzles as a Math Manipulative
Puzzles are such a great tool/toy/manipulatve for young children.  I love to see shelves filled with a huge variety of puzzles, organized so children can access them and find that all of the pieces are there.
Since the pieces of puzzles need to be manipulated in order to fit into the right spot, they really can be regarded as a math manipulative, since shape and orientation, are critical to finding success in completing one.  For the very youngest children, they make wooden puzzles with 3 to 8 shapes with large knobs for little hands.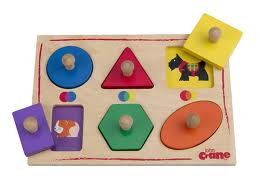 The above puzzle has the added clue so children can match the color as well as the shape.  Underneath each piece is a surprise picture worth looking for.
Think of the mathematical possibilities.  You can count the pieces with the child.  You can label the shapes with the child.  You can use mathematical language with the child.  You can play, "Can you find?" with the child.