Do you ever ask your kids to "read" their patterns?  It is pretty simply and using a few simple techniques, you can support the children as they organize and synthesize information by using several different learning modalities.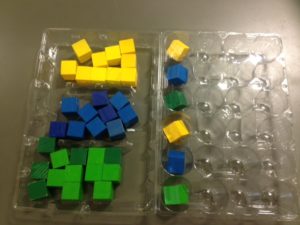 Take a look at the pattern above.  Clearly the child who created this understands patterns.  Next, ask him to read his pattern.  Listen as he reads, "Green, blue, yellow, green, blue, yellow."  Encourage him to point to each block as he reads.  This reinforces the use of his tactile senses to reinforce the pattern concept.  Now ask him, "What comes next?"  If he isn't sure, have him read the pattern again.  This action allows him to hear the words as he points.  Now he is using sight, sound and touch.
Keep increasing the difficulty of the pattern experiences by providing more and more items that can be formed into patterns.  Provide items that have attributes that can be categorized, sorted, and patterned.  Encourage the children to try new and more complicated patterns.
See how Maricela encourages the children in her care to work on patterns.