Sid the Science Kid Measures the Weather
Errata- Over the past several months I have written about Sid the Science Guy only to discover last week that it is actually Sid the Science Kid!  I apologize to all of Sid's fans out there.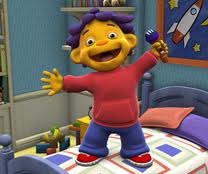 This is a nice game that fits in perfectly with the April's Thursday Theme of Weather.  Sid the Science Guy is looking at thermometers and matching like temperatures.  There are clues in the pictures that help children figure out which ones go together based on the weather. Cold weather pictures have thermometers that show a little red and warm weather pictures show a lot of red on the thermometer.  The visual clues will help the children to be successful at the game, but it also reinforces the notion of weather and measurement of temperatures.