Summertime Means Water Play!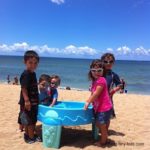 Some programs shift their focus slightly in the summer and incorporate more of a summer "camp" atmosphere to their program. Hopefully, this means much more outdoor play time, more water play, more nature play and more free play.
Water provides us with a bountiful resource with which to explore one of the main areas of Mathematics- Measurement. We all know that measurement is about finding the length, the width, and the size of something.  It is also about finding capacity (holds more, holds less), weight (heavier, lighter) and temperature (colder, hotter). All of these concepts can be explored in full measure (no pun intended) with an outdoor water table, (or a kiddie pool) a few containers and a hose.
Remember, water safety should be a primary concern at all times. Young children can drown in 2 inches of water so an adult needs to be supervising water play at ALL times.
How do you use outdoor water play in the summer? Let's hear your ideas and next week I will present some new ones.