Last week I visited the Victoria and Albert Museum of Childhood in London, England.  We were on vacation visiting my family in Jolly Olde England and I made it a point to get over to this museum since I knew it would provide inspiration for this blog and it would fill my heart with images of children at play and children throughout history.
Over the next few weeks, I am going to write about some of the areas of the museum, especially those connected to early math learning.
One of the first things I noticed was the sheer quantity of toys specifially designed for open-ended construction play.  Everything from Legos to large wooden blocks are placed strategically throughout the museum.  You can also see how these "types" of toys exist in other areas of the world.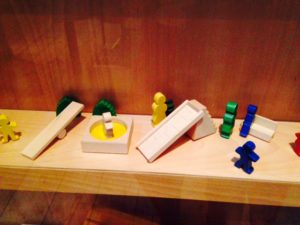 These are very simple blocks with nongender specific figures that can be arranged and designed in an infinite array of scenes.  Here, the blocks are set up as a playground area, but they could depict anything a child's imagination can create.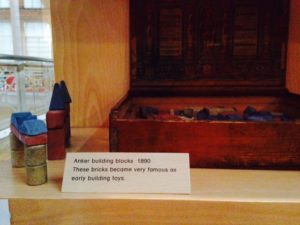 These blocks are much older but you can see how they are not unlike the newer version.  I love the wooden carry box and the endless possibilities for open-ended play this set provided for children a century and a half ago.
The museum is very careful to remind guests that many of these toys were not available to most people.  Only people with disposable income might buy these toys for their children or a set, like the one above, might be a gift for a many children at Christmas time, for example.
Open-ended construction manipulatives are grounded in early math concepts.  As children manipulate these block sets, they consider their attributes (and therefore, their uses), the spatial requirements for placement and utility, the quantity of available pieces…. the list goes on.
Next week, I will share some photos of nesting blocks, Froebel's gifts, and doll houses.