Using Book Creator to Create Scavenger Hunt eBooks
posted by Brian Puerling
Young children are usually up for the challenge of an exciting game whether it be a board game, hide and seek, or simply guessing something.  Scavenger hunts provide children with the opportunity, at its best, to develop skills around collaboration, observation, and communication. Taking technology out of the home and the classroom provides children with an authentic way to see how technology can help us in a variety of environments.  Consider creating scavenger hunts for these popular locations for children:
Grocery store
Mall/shopping center
Neighborhood walk
Library
Park/playground
Museum
Airport
Restaurant
Bus stop/station
Zoo
For parents, the list above can be a great way to mathematically engage your child(ren) in errands and family trips.  For teachers, this list can provide a new way to engage children and their chaperones with a mathematical lens on a field trip.
Book Creator is an application which can be used to create and publish eBooks.  This application can be used to collect/capture images of found objects for a given scavenger hunt. For example, if a child was at the grocery store, the adult could have their shopping list which may include:
3 apples
1 gallon of milk
2 loaves of bread
5 bananas
Half of a pound of deli ham*
*As indicated as "half of a pound", this item used as a scavenger hunt item may be better suited for young children with a more solid mathematical foundation. 
For this example, in order to facilitate this experience, you will need:
A hand-written grocery list
A writing utensil
A smart phone or device (Apple or Android)
The grocery list can be used as the same list for the scavenger hunt.  The adult and the child(ren) can work together to find the items on the list.  As they find the items, they can take a photo of each item with the device, adding one photograph per page.  As items are found, the child(ren) can cross them off of the list.  Along with the images taken of the items, children can write what they have found.
As well as photographs, there are other features that children can add drawings, typed text, audio recordings, and shapes such as arrows and stars.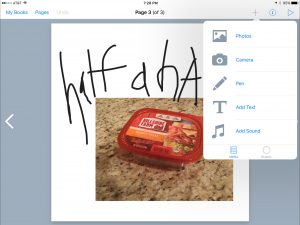 Book Creator provides a very intuitive and open-ended space for children to collect what they have observed on a given trip. Once, completed, these eBooks can be shared as videos, PDF's, and ePubs depending on how they are intended to be shared (social media, email, etc).
Book Creator is available on:
Chrome:
iPad:
Price: Chrome: Free, Apple: Free (with in-app purchases), otherwise $4.99
Consider your home or classroom curriculum and reflect on where an eBook scavenger hunt activity might enhance the overall experience of the unit.  If you are a teacher, try it out with your child or relative to see how it goes.  If you are a parent, try it out with your child and tell your child's teacher how it went.