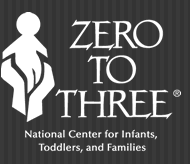 My guess is that most of you are familiar with the Zero to Three group which is a national organization that is focused exclusively on the health and welfare of infants and toddlers and families.  Their website is really informative for both parents and caregivers.
According to the website,
ZERO TO THREE is a national, nonprofit organization that informs, trains, and supports professionals, policymakers, and parents in their efforts to improve the lives of infants and toddlers.
Take a  minute to explore this site.  As an advocacy group, they are a powerful voice for young children.  If you look at the top right hand of the home page, there is a space where you can sign up and register.  That way, you will receive frequent updates about the important work they do and ways for you to get involved.