Ramps, Inclines and STEM in the Great Outdoors
"Hey, Hudson! How did you do that?"
Eleanor is amazed at Hudson's success as he races a car down the ramp. This is the same car that she couldn't get to stay on the ramp just minutes earlier.
I listen as Hudson turns the car over and explains, "See those wheels? The front ones were bent. I had to take my finger and straighten that part that connects them. That is why it was going crooked."
Eleanor is completely engaged in the moment as Hudson instructs her on the physics of motion.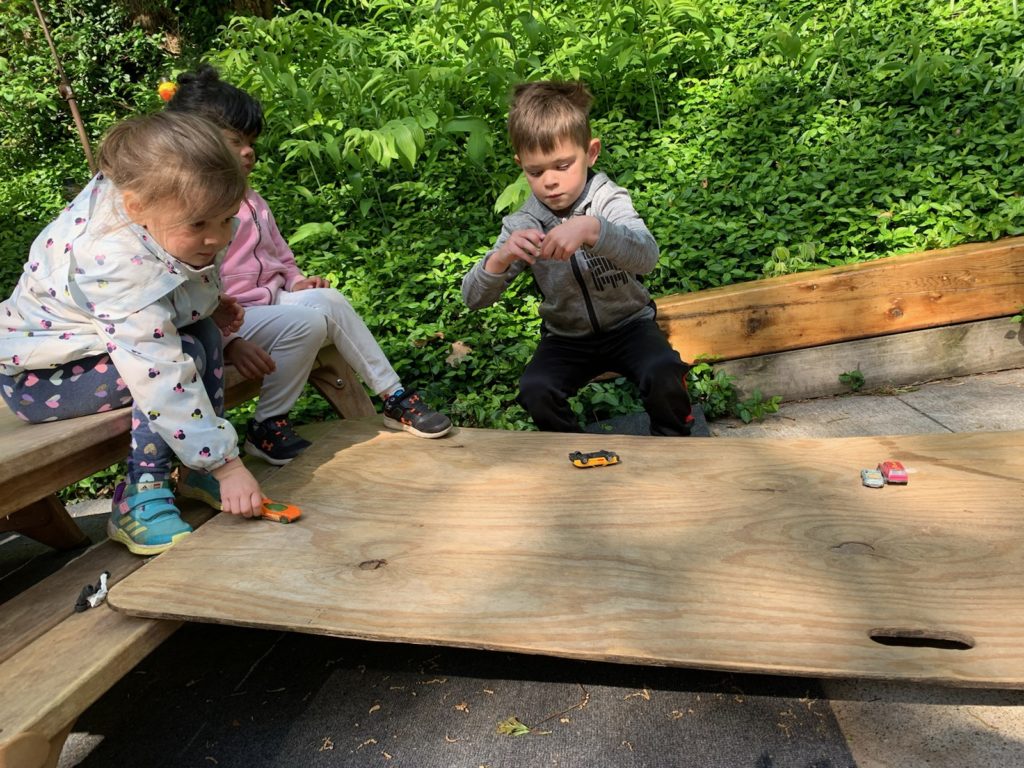 We have a group of kids at our center who have grown up together, developed great friendships and built a strong early math and science foundation. Science skills enrich children's math skills and concepts through hands-on experiences. Math is used to construct and understand data that is collected through observation. You can do math without science, but you can't do science without doing math.
In the past few weeks, I have been reminiscing about how this group's understanding of concepts has grown right along with their physical development. We are currently ramp and incline crazy, an activity that has piqued the children's interest in cycles over the past few years.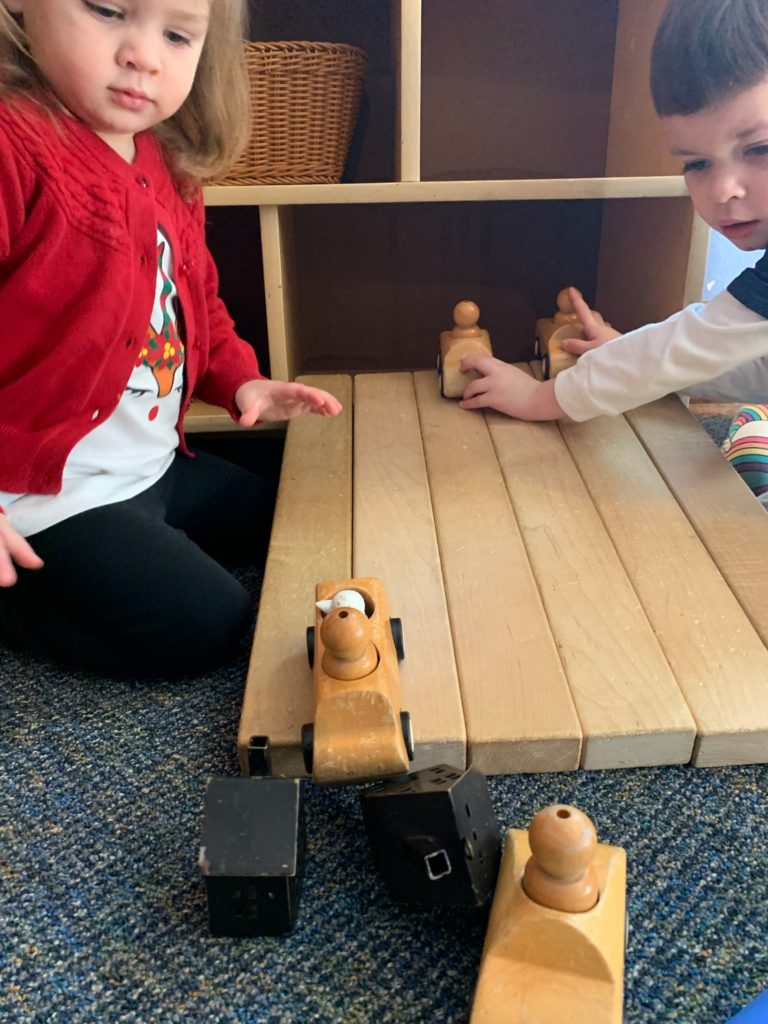 Recently, inclines have dominated our play once again, and we have been doing a lot of investigative activities with ramps of all types and sizes. Experiments with force, speed and motion foster the development of scientific-inquiry skills and offer endless math opportunities, as well as great fun!
When our young friends play with inclines, they often try out new ideas and techniques. I love to listen to their theories as they engage in this rudimentary scientific exploration while mentoring and encouraging one another. Their knowledge continues to grow as they experiment and observe the outcomes. This is data collection!
Once again, we are meeting those early learning standards through long periods of uninterrupted play. Not all of their ideas will work. When they don't, this leads to deeper communication and collaboration as the children use what they've learned to modify their techniques.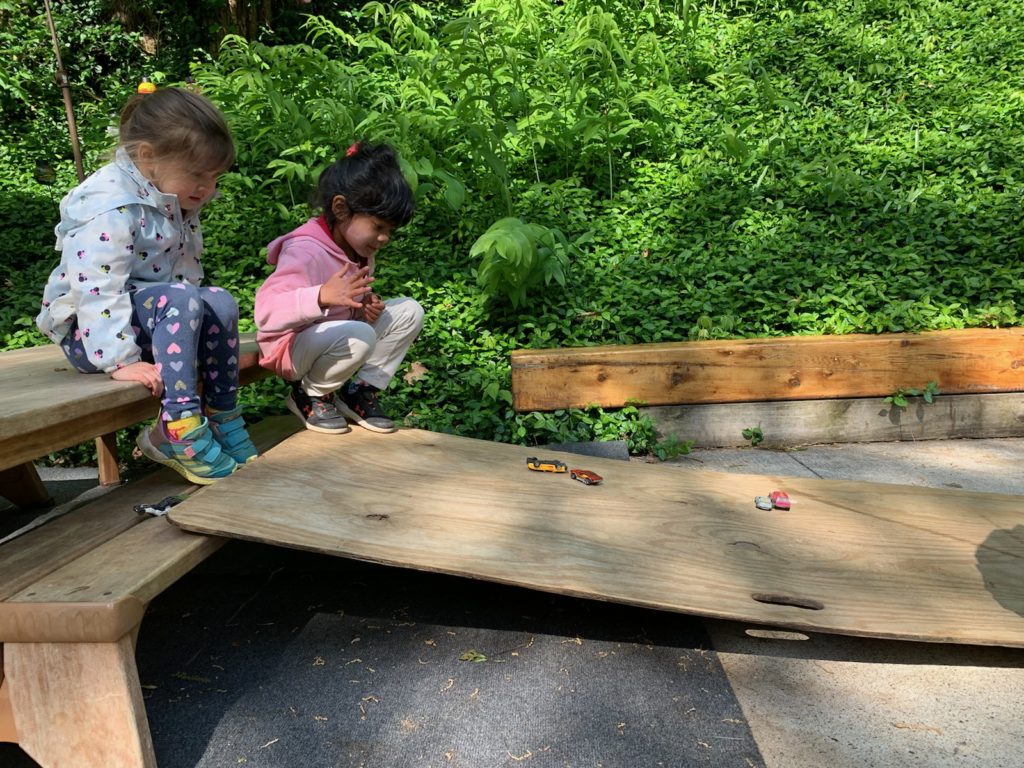 I watch as they observe each other's successes and failures and try to improve on their ideas and methods to achieve their goals.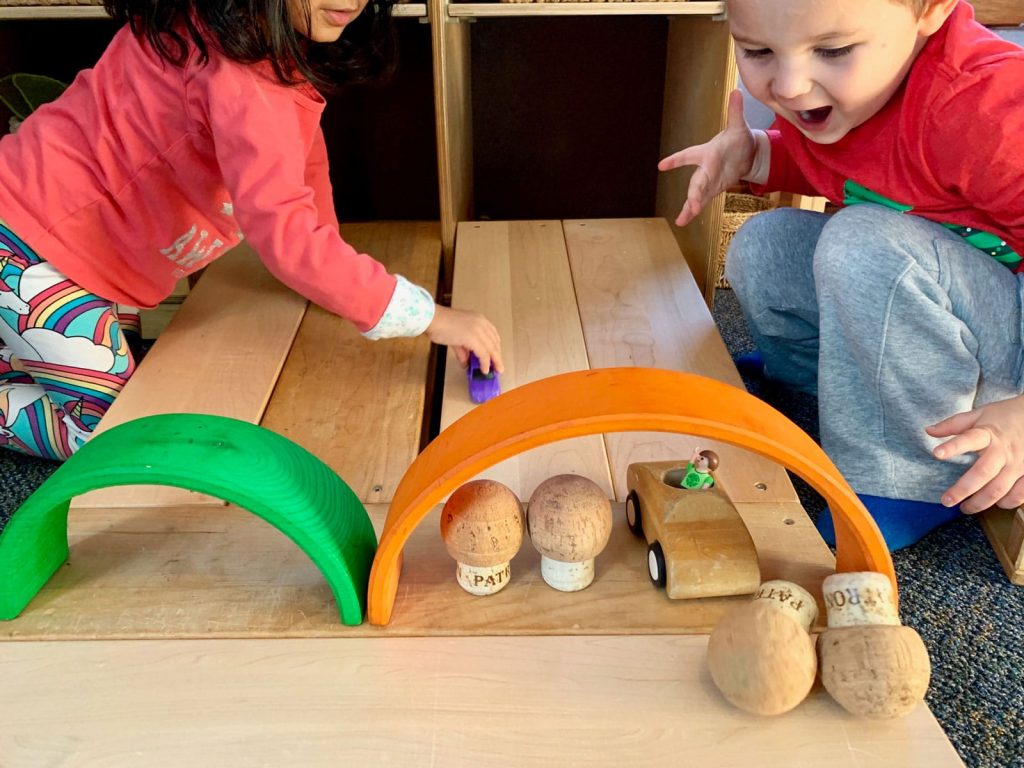 Simply placing the basket of beanbags at the top of the slide is all that it takes to encourage collaboration, cooperation and a lot of giggles. Activities such as these prompt children to explore their environment and use what they learn to design new experiments and test out new ideas as they make sense of the world around them.
By offering opportunities such as these, we are laying the foundation for the mathematical concepts and skills that they will need to perform later scientific investigations.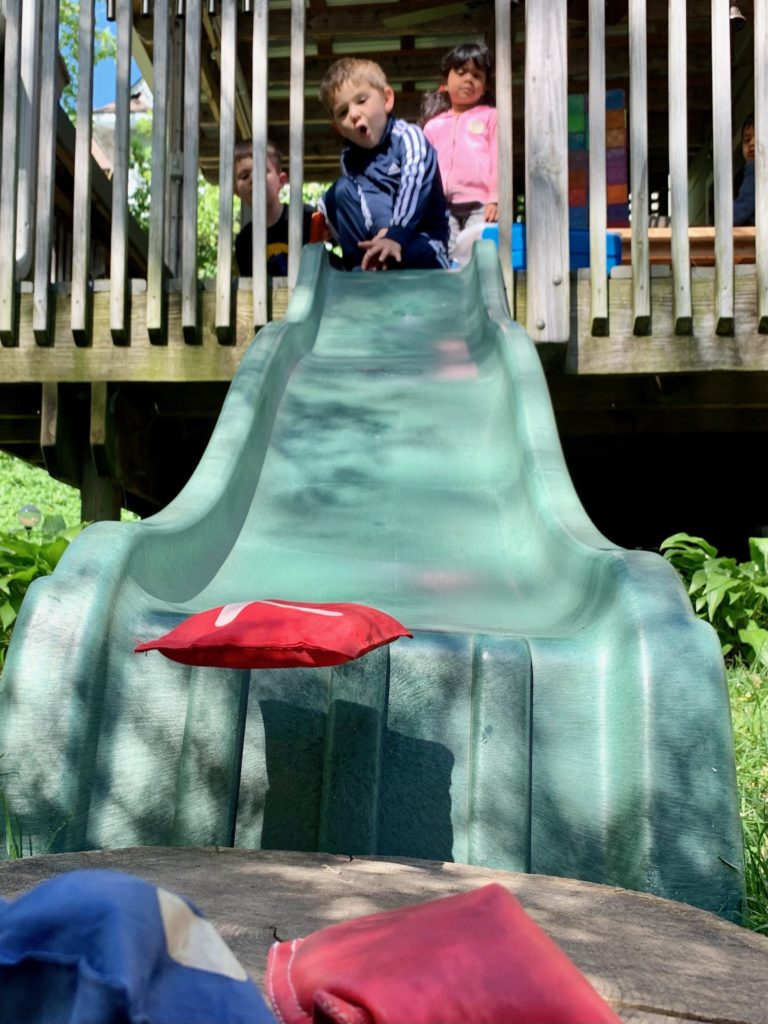 Ramps and Inclines provide a treasure trove of opportunities to meet your math, geometry, measurement and number standards. I love to watch the children at my center as they make predictions and then test out their theories. Sometimes with success, sometimes not so much. By reflecting on their experiences, the children are constructing their own understanding and knowledge of how the world works. Counting, classifying, measuring and comparing are some of the processes that can take place when we allow long periods of uninterrupted time for exploration and discovery.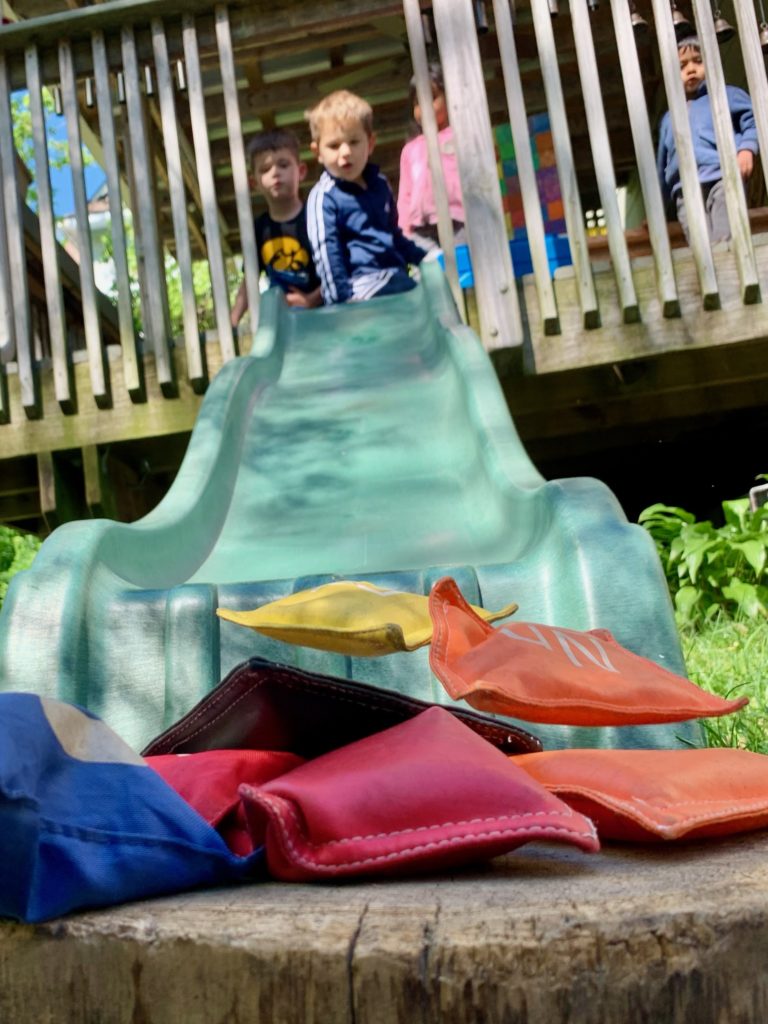 Our play experience with ramps and inclines is a perfect example of STEM learning. The physics involved in creating stable structures and moving objects in various ways will enable us to meet our science standards for the day. Engineering happens when the children design their structures or change the way they move their objects. When they draw conclusions about how objects move through space, make predictions and collect data, we have wrapped up our STEM lessons in one pretty little package of play!
These learning experiences offer an abundance of opportunities for children to learn important math, science and engineering practices; ask questions; and arrive at conclusions. Through their observations, they may be able to identify the problem and carry out new investigations—collaborating and problem-solving with their friends as they construct a new understanding of the matter at hand. When we enable children to manipulate their surroundings, experiment and interact with materials, we create rich learning environments.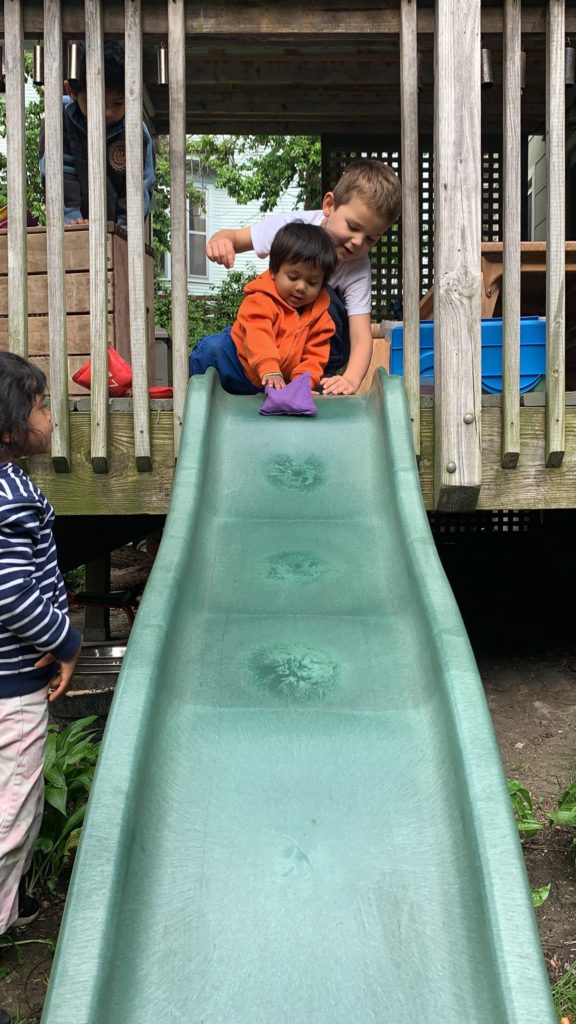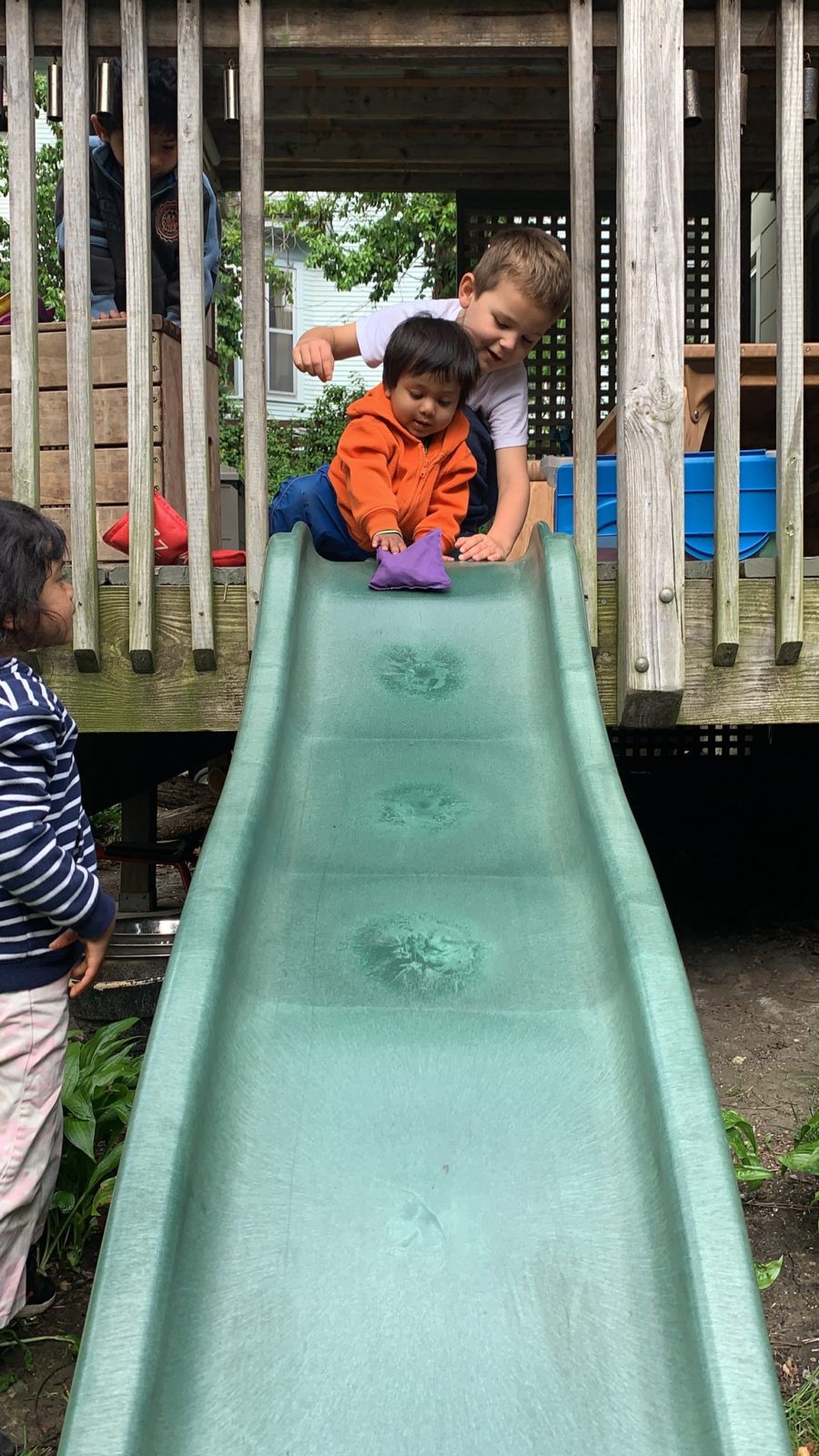 Best of all, this activity is developmentally inclusive. All ages can engage in incline play. It took less than a day for our youngest learner to figure out that the object he drops from the top of the incline will slide to the bottom. This activity keeps his attention for long periods of time and his enjoyment never ceases as he conducts his incline experiments again and again.
The joy of watching young children join in the math and science play never gets old. So grab a ramp and a few young friends and start your own math and science club!